Please scroll down for video clips of recent concerts.
My name is Tejas Tope'. I am now 21 years old and live on Long Island, NY. Since I was five years old, I have had the honor and privilege of learning Tabla from my Guru, Pt. Samir Chatterjee.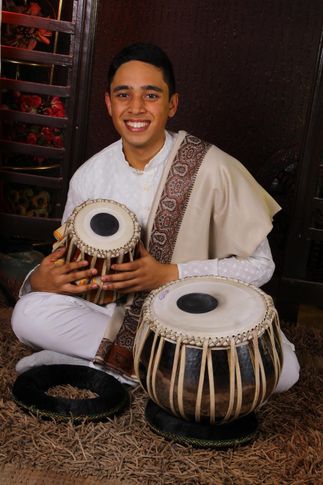 I am excited to announce the release of my 2 albums, Inner Rhythm(tabla solo),and Space Within Beats (tabla and pakhawaj solo).  I would like to thank Pt. Ramesh Misra  for his blessings and for playing such soulful leheras with me on sarangi in these 2 albums.  I am so happy to let you know that 3 more albums have been released: Baad-e-Naubahaar (ghazals)and Swar Ras(classical)by Shri Manoj Govindraj  , and Bhav Rang(variety of semi-classical songs)by Smt. Rucha Muley Jhambekar.  I have accompanied them on tabla in these albums along with Shri Madhu Vora (harmonium). If you would like to purchase any one or all of the albums, please CLICK HERE . 
          If you want to listen to some music from these albums, for individual tracks please click here; for a string of clips of these albums, click here.
While all of the albums will soon be available through iTunes, Amazon, CD Baby and all,  I will be happy to personally send them to you without any obligation, and you send me your blessings only if you like them, or else, they are yours to keep. Please email me at tejastope@gmail.com and let me know which ones you would like me send along with your name, your email address, mailing address, and phone number.  Please allow a minimum of 2 weeks to ship the CDs.
Guru Arpita:  This album is dedicated to my Guruji as a token of my affection, respect, and gratitude. The album is a compilation of my selected compositions as they occurred to me over the span of a year. Fifty-six compositions are presented in structured Tabla Solo format in six taals (rhythmic cycles), consisting of five Uthans, one Peshkar, ten Quayedas, three Relas, two Gats, twenty-five Tukras, and ten Chakradhars. Click here for Booklet of My Compositions which accompanies the CD and contains the compositions. I hope that you will listen to all the taals and send me your blessings and comments by visiting my website at www.tejastope.com and signing my guest book. I shall be donating a part of the proceeds to charities dedicated to serve under-privileged children across the world. I would like to thank my parents for their encouragement and support, and everyone who helped me in recording and presenting this CD to you. Sincerely, Tejas Tope.
Sign up for my Mailing List